Wipeout Omega Collection - Playstation Experience 2016 Announce Trailer
Play Sound
Wipeout Omega Collection (stylised as WipEout Omega Collection) is a futuristic racing video game developed by Sony XDev Europe, Clever Beans  and EPOS Game Studios for the PlayStation 4. It is the tenth standalone title in the Wipeout series and the first not developed by original developers Studio Liverpool, following the studio's closure in 2012. It is a remaster of the previous two entries in the series: Wipeout HD, its Wipeout HD Fury expansion and Wipeout 2048. The game was released on 6 June 2017.
Overview
[
]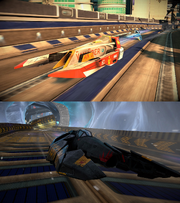 Wipeout Omega Collection is a remaster of the previous two titles in the Wipeout series: Wipeout HD, its Wipeout HD Fury expansion and Wipeout 2048. Wipeout HD itself contained content from Wipeout Pure and Wipeout Pulse. Players control anti-gravity ships which are owned racing corporations (effectively referred to as 'teams' in-game). Every ship has different characteristics, for example each ship has variations in handling, thrust, maximum speed and shield strength. Each craft is equipped with an energy shield which absorbs damage sustained during a race; energy is lost whenever the player's ship collides or is hit by weapons fire. If the shield runs out, the player's ship will explode and is consequently eliminated from the race. However, the player may replenish energy by absorbing weapon pick-ups.
Nine games modes will appear in Omega Collection: Zone, Tournament, Speed Lap, Time Trial and Single Race from HD; Zone Battle, Eliminator and Detonator from Fury; and the Career Mode from 2048. The game will contain 26 unique tracks and 46 unique ship models. The game will include split-screen and online multiplayer.[1] Also, Racebox will be included for all tracks, including 2048 mode.[2] The campaigns are split in to 3 groups, in a similar manner to how the HD and Fury campaigns were separated in Wipeout HD Fury.
Omega Collection was designed to be run at 1080p on the PlayStation 4, and 4K on the PlayStation 4 Pro, both at 60 frames-per-second. Van-Über and Tigron officially return for the first time since Wipeout Pure.[3][4]
Development
[
]
Studio Liverpool, the original developers of the Wipeout series, announced its closure by Sony Worldwide Studios. However, Sony stressed that the only part of the Liverpool campus that is being closed is Studio Liverpool. The campus will still house Sony's External Development Studio Europe (XDev) among other departments.[5]
In 2015, Sony Worldwide Studios President Shuhei Yoshida stated on a possible Wipeout for the PS4 "Never say never. From my standpoint I try to balance the number of games in a franchise. In the future there might be a chance to come back to a game like Wipeout."[6] In 2016 Nick Burcombe, co-creator of the original Wipeout, commented "If (my latest project) Table Top Racing is successful, I know I can put a team together for it as I get asked every week if we're making a new Wipeout. If there's demand there, we'd love to meet it. But as it stands right now, without the Wipeout brand on it – which I doubt Sony is about to relinquish anytime soon – it's kind of out of the question without Sony's blessing."[7]
The game was announced by Sony Interactive Entertainment on 4 December 2016, during the annual PlayStation Experience expo for a Summer 2017 release.[8][9][10] On 30 March 2017, Sony announced that the game would be available on 6 June for North America and 7 June for Europe. [11][12]
Pre-order Bonus
[
]
Those who pre-ordered the game digitally were gifted a dynamic theme for their PS4 UI as well as access to the Van-Über ship. [13] Those who pre-ordered the disc version were be given an exclusive steelbook as well as static themes for their PS4 UI. (The steelbook is not available in NA.)[14]
Game Modes
[
]
Campaign
[
]
Main article: Campaign in Wipeout HD
Main article: Single Player Campaign in Wipeout 2048
The single player campaign from 2048, and HD/Fury's campaigns have the same requirements as they would in their original games.
Tracks
[
]
Wipeout HD:

Wipeout HD Fury:

Wipeout 2048:
Teams
[
]
Wipeout HD
:
Wipeout 2048
:
Music
[
]
Wipeout Omega Collection features 28 licensed soundtracks. If the PlayStation Music app is installed, players can use the "Best of WipEout" Spotify playlist to use tracks from earlier Wipeout games. Due to the many Spotify playlists on PlayStation Music, however, players can listen to anything, though players need to be mindful that Spotify is not available in all countries.[15][16] Later in around August 2017, ADDIKTION challenged players to remix Shake It (Wipeout Omega Instrumental Edit). The winner's track would get chosen, and they would receive a PS4 Pro with Wipeout Omega Collection. The winner of the contest was Vieille Griffe, and the track was added to the Wipeout Omega Soundtrack on Spotify and ADDIKTION's YouTube channel.
ADDIKTION – Shake It (Wipeout Omega Instrumental Edit)
Airwolf – Talking Bass feat. Stace Cadet (Taiki Nulight Edit)
Black Sun Empire & State of Mind – Kill That Noise (Wipeout Omega Edit)
Boys Noize – XTC (The Chemical Brothers Remix)
Brodinski feat Louisahhh – Let The Beat Control Your Body
Carbon Community vs. Burufunk – Community Funk (Deadmau5 remix)
David Tort & Danielle Simeone – You Got To (Wipeout Omega Edit)
DC Breaks – Breathe (Instrumental VIP Mix)
CODE:MANTA – DFCK
Dillon Francis & NGHTMRE – Need You (DJ Hanzel & Drezo Remix)
DJ Kentaro feat. Matrix & Futurebound – North South East West (Tha New Team Remix)
Emika – Double Edge (GeRM Remix)
James Talk – Remote (Deadmau5 Remix)
Jerome Isma-Ae & Paul Thomas – Tomorrow (Luke Chable Remix)
Krakota – Lust Thrust
Matrix & Futurebound – Glow Worm
Matt Anthony – Headlights
Memtrix – IC YR PAIN
Metrik – Bring It Like That
Movement Machina & Timo Vaittinen – Upsides Have Downsides (Wipeout Omega Edit)
Noisia & The Upbeats – Dead Limit
Red One – Born Free
Soundprank – Obsidian
Swanky Tunes – Give It
Swedish House Mafia vs Knife Party – Antidote (Swedish House Mafia Dub)
The Chemical Brothers – C-h-e-m-i-c-a-l
The Prodigy – Invaders Must Die
Warden – Get Down
ADDIKTION – Shake It (Vieille Griffe Remix)
Trophies
[
]
Main article: Trophies in Wipeout HD
Main article: Trophies in Wipeout 2048
Wipeout Omega Collection doesn't feature a unique set of trophies, unlike HD or 2048, but instead features a mixture of both games' trophies. One of the trophies from the original games, namely Beat Zico: 2048, has its task altered, while others, such as Bling Brigade and Perfect Pir-hana, are notably missing and nowhere to be found in the game.
Reception
[
]
Wipeout Omega Collection has been met with generally favourable reviews, with a Metacritic aggregate score of 85% and a Game Rankings score of 87%.
Miguel Conception gave the game 9 out of 10 concluding that "While each of the three games exude style and stimulation in their own distinct ways, they collectively showcase the best elements of franchise's engrossing racing and silky smooth visuals. And even though it doesn't completely scratch the itch that only a completely new PS4 sequel can offer, this collection is easily the next best thing."[17] Timothy Nunes of PlayStation Universe gave it 8.5 and heavily praises the updated graphics, saying "It's brilliant to see WipEout back. It looked great back in the day, but thanks to the power of PS4 it now looks incredible, and captures with style the adrenaline-pumping action that we so fondly remember."[18] Martin Robinson of Eurogamer also comments "When WipEout clicks...there's nothing else like it, and given the premature demise of Studio Liverpool it's quite likely there'll never be anything like it again. There may well be other, better futuristic racers out there - but there are none that can boast this much style."[19]
The main criticism of the game was due to the lack of new content.[20] Sammy Barker of Push Square laments "Despite being boosted all the way up to 4K on the PS4 Pro, some of the tracks are returning for the fourth time, and while WipEout 2048's contemporary layouts look luxurious on the big screen, it can be hard to shake the feeling of familiarity on occasion." James Coles of Impulse Gamer further comments "It's fair to say, if you're a Wipeout veteran, you've probably played these three games and their modes until your eyes have melted, but that doesn't mean that WipEout: Omega Collection isn't worth your time."[21] Dominic Leighton of TheSixthAxis also criticises the choice of music, saying "...the emphasis is on modern electronica, and though its heart-pumpingly intense beats fit perfectly with the action and with the series' outlook, it seems a shame that there aren't a few more nods to where the series has come from. Of course, you can just fire up a Spotify soundtrack and listen to as much Leftfield and Orbital as you like, but there needs to be some CoLD SToRAGE to really hit the spot." [22]
On June 10, 2017, Wipeout Omega Collection became the first game in the series to gain the UK All Formats No.1. [23] [24]
Gallery
[
]
Videos
[
]
Trivia
[
]
Wipeout Omega Collection has different sound effects as compared to the original game, especially with the weapons (the same in both HD and 2048 modes), to the sounds of all the ships accelerating, which are highly distinct from team to team.

This is due to ADDIKTION serving as the sound designer for the Omega Collection.
The sounds of FEISAR, AG Systems, Auricom, Qirex and Piranha ships are always identical, no matter if they're played in the HD or 2048 modes.
The race countdown voices are similar to that of 2097 and the original game. "3... 2... 1..." is spoken with 2097 effects, and the "GO!!!" voice is from the original game.

The details of the visuals have been improved to such an extent that previously illegible text and graphics on the ships can now be seen clearly.
While the Van-Über ship was originally a pre-order exclusive, it has since been included in the digital edition of the Omega Collection as extra content. In selected regions (such as North America), it was also included in physical copies via a redeemable code.
Despite the user interface being similar to HD, the Fury option for the menu style is no longer available. Also, the icons are changed from grey to black, and the highlighted icons are now red instead of teal.
A glitch may occur when selecting FEISAR, Auricom, Piranha, AG Systems, or Qirex in a HD mode, causing the announcer from 2048 saying the team's name, but not its class.
There was also a patched glitch that allowed players to race vintage AGRC ships onto the FX350 tracks in HD mode. It is unknown whether this was simply an in-game bug, or that there would have been a cross-chronological feature (e.g. HD ships in 2048 tracks and 2048 ships in HD tracks). The glitch will not allow speed classes faster than A class (and that the 2048 ships are slightly faster than their HD counterparts), and that the weapons systems work on a single weapon pad (as with their later counterparts).
All ships feature voiceovers announcing which weapon has been picked up and whether a shield or autopilot has been activated, similarly to the classic Wipeout games. However, most ships' voices are recycled whereas both Tigron and Van-Über have their own unique voice announcements.
In that case, teams like Assegai and Icaras use the voice of the FEISAR onboard computer, while Triakis and Mirage use a voice similar to AG Systems. Others like Goteki 45, Harimau and EG-X use the voices of Piranha, Auricom and Qirex's onboard computers, respectively.
For unknown reasons, the female announcer from HD is used in both 2048 and HD game modes, alerting players on incoming weapons and critical shield energy if their ship takes too much damage.
The Wipeout Digital Artbook contains concept art for the Omega Collection, specifically Tigron, Van-Über, and an early version of FEISAR.

This artbook also contains a scenario which includes a "good ship", a "bad ship", and flares, all of which haven't been introduced in the Wipeout series.

The artbook, despite being an artbook, contains the intro movies for Wipeout Pure and Wipeout 2048.
The artbook also contains concept art never seen before from 2048 and reuses some concept art images from Pure.

In HD/Fury, neither Tigron nor Van-Über can be selected for Zone and Detonator. This is possibly because neither of the teams' ships have their own standard Fury variants, though they can still compete against Fury ships due to their excellent stats. Despite this though, the vapor trails coming out of their thrusters are blue, like the HD-class ships. However, following the release of Update 1.04, it is possible to select both teams for Zone Battle using their Fury VR ships only.
In Update 1.04, PlayStation VR (PS VR) support was added to the game, making Wipeout Omega Collection the first in the series to feature VR support.[25]

This update also added 6 VR exclusive ship models for every team - 2 per team in HD/Fury and 4 per team in 2048 respectively. Each ship shares the same stats as their HD, Fury, and/or 2048 Speed, Fighter, Agility and Prototype class counterparts; in the case of Tigron and Van-Über, the stats for their VR HD and Fury ships are identical. VR versions of the Zone and Detonator ships were also added for HD/Fury; in Zone Battle, all Fury VR ships can be selected, including those for Tigron and Van-Über. Meanwhile, every VR ship in 2048 can be used in Zone.
While playing under VR modes, you cannot use the standard counterparts of the HD and 2048 ships; you are limited to the VR-exclusive ships only. While playing without VR though, the VR ships are visible, but remain unavailable unless you play the game in VR.

This update also enabled 3D audio support, taking advantage of the PS VR headset's capabilities.

1.04 also allowed players to listen to Vieille Griffe's remix of ADDIKTION's 'Shake It' song in-game.

This game, like a vast majority of PlayStation 4 titles, is also backwards compatible on the PlayStation 5 and performs almost identical to how it would be on a PS4 Pro with 4K and 60FPS, but the digital art book cannot be used.
References
[
]
External Links
[
]
Wipeout Omega Collection on Clever Beans
Wipeout Omega Collection on RAWG