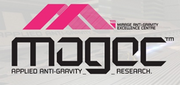 The Mirage Anti-Gravity Excellence Centre, also known as MAGEC, is an anti-gravity development company based in United Arab Emirates. They are most notable for being the parent company of AG racing team Mirage, and pioneered the Mag Lock magnetic track technology that is featured on several tracks in Wipeout Pulse and Wipeout HD.
They are one of the main sponsors of FEISAR.
Main article: Mirage
In 2202, wealthy sand baron Sheikh Mani Zayed formed the racing division of MAGEC, known simply as Mirage. The Mirage team used the Mantis chassis perfected by MAGEC, providing a balanced setup which would allow variations depending on the pilot. The team also fielded pilots who had graduated from the MAGEC Academy.
A product of MAGEC is the Mag Lock magnetic track technology. This type of track emits a subtle magnetic field which attracts AG craft to the track whilst keeping the craft airbourne. As such, this allows AG tracks to be crafted in ways never thought possible or to prevent AG craft from becoming airbourne at particular locations.
Mag Lock is a major sponsor of the FX400 League, and a sponsor of EG-X and Assegai in the FX350 League.
In Wipeout 2048, Mag Strip technology, which MAGEC pioneered, is used on many of the tracks, particularly Empire Climb. This could suggest MAGEC's possible existance since the start of AG racing. However, it's also possible that Pir-hana pioneered the technology as they publicly defended their patent on the technology.

More proof of MAGEC's existence in 2048 is that their logo is found on liveries of several ships. However, other company logo's from HD are also found on liveries of many ships, thus meaning Studio Liverpool must have simply reused them out of oversight.