Devilia

Location
Novon
Length

13.22 km
24.34 km
31.77 km

Altitude

840 m
647 m
1837 m

Track Material
Unknown
Appearance(s)
Devilia is a race track, with three different variations, located on the planet Novon. The venue is home to the first and so far only point-to-point tracks to be featured in a Wipeout game. The course made its sole appearance in Wipeout Fusion and was used for challenge mode only.
Description
Edit
Devilia was built by Tandalph Connors, the multi-billionaire owner of inter-planetary supply company TanAir 1™ and a member of the US Race Federation. He persuaded the Race Commission to build an F9000 track on the planet Novon which was discovered by one of his own sales reps, as he claimed there were lifeforms there who would be grateful for inward investment from Earth. The track is the first 'point to point' venue ever developed for anti-gravity racing; instead of being based on a loop, all races start from the same location, but then the track follows one of three different routes in linear fashion.
Variations
Edit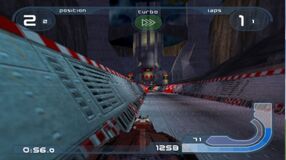 Short Course
Edit
Used for the Franco Gonzalez (Auricom) and Alex Reece (EG-R) challenges. Easily the most straightforward of the Devilia tracks, with the highlights being a long, undulating straight and a gradually thinning track near the end, before the track emerges into a large room where the finish line is located.
Medium Course
Edit
Used for the Sveta Kirovski (Tigron) and Zala Wollf (Xios) challenges. The track is significantly longer and more difficult than its short counterpart, with several chicanes and tight turns throughout its length. This version of the course includes a tricky trackless section filled with large pillars. These are very easy to hit and are liable to ruin a race.
Long Course
Edit
Used for the Jann Shlaudecker (Piranha) challenge. A very long and technical course, which retains the freeform section of the medium track while adding corkscrew and zig-zag sections. There is a long straight section leading to the finish, where Shlaudecker often slows down (probably because of a bug) to allow an easy victory.